Nutrition Testimonials — 2016  (see Training Testimonials below Nutrition)
 "I have been preparing athletes for the NFL for over 20 years and for the majority of that time Hillarie Scannelli has been overseeing the nutritional programs for our NFL draft prospects and veterans. Hillarie uses a science based program that makes it easy for each athlete to follow. Every program is personalized and based on each athletes goals and objectives. Hillarie also takes into account what they do and do not like to eat. Whether it be gaining lean body mass to increase weight and strength or decreasing body fat to get leaner and faster, our athletes have always hit their goals. Every year our athletes run the fastest times of their lives and have excellent body fat levels at the NFL Combine or pro days at their schools with Hillarie's help. I would highly recommend Hillarie to any athlete or weekend warrior looking to be in the best shape of their lives."
 Brian Martin C.S.C.S., NFL Program Director — BMartinSports
My name is Jennifer Korab, and I own Renaissance Hair salon. I had asked Hillarie to host a fitness & wellness event for me at !mpact Training. I can't say enough about this event and how it helped my employees in many different ways. The event included health, fitness and nutrition, as well as some life coaching exercises. Hillarie broke down nutrition, and explained it in a basic way for us to understand the importance of eating healthy. In our fast-paced work environment (a hair salon), Hillarie gave us great healthy snack options and tips on what to eat — and not only will this help with weight loss, but also to keep our energy up throughout the day. The fitness portion really sparked an interest with my employees, as they learned the importance of exercise, and they have stuck with it. Hillarie has a way to make exercising fun, and makes you believe in yourself and that you can do this, even if you haven't exercised before. All around this event was truly amazing, and I highly recommend Hillarie to everyone.           –Jennifer Korab, Salon Owner/Stylist 
To Whom it May Concern: Hillarie Scannelli, Owner/Operator of Impact Training has been to our school to talk to and give presentations to our athletes on the importance of fueling their bodies. She spoke to the students so they could relate and understand, and she also showed them work outs to help them train beyond what they thought possible.  She was inspiring –not only to the students but also the faculty.  Our football and basketball coaches have made arrangements to have her train with their teams on a weekly basis at Impact Training.  We look forward to having her back soon.          — Kathy DiFranco, Faculty/Valley View Middle School – Watchung , NJ
TRAINING TESTIMONIALS
October 2016 — OLIVIA JOHNSEN

(Hillsborough High School Student) :  We are more than delighted when we receive a text message from one of our Elite Athletes — thank you Olivia for all your hard work and dedication!  Here is what Olivia had to say:  "Hi Mr. Scannelli, it's Olivia, and I just wanted to let you know I committed to Central Michigan University.  I could not have done this without the support and help from you and the rest of the !MPACT crew.  I consider you guys part of my family and am so thankful for you!!"
September 2016 — THE LAMBO FAMILY

(Ali and her parents, Karen & Frank) — 

Ali:

 I joined !MPACT Training to increase lean muscle so I would be stronger for my job (working with patients).  I am not only stronger, but my friends and family are noticing muscle definition that I never had before.  I feel happy and fit, and I was also inspired enough to get certified in Group Exercise and I am so glad I did!  

Karen & Frank Lambo:

 We both joined !MPACT and started with Personal Training because we hadn't exercised in a number of years, so we wanted to start out slow and cautious.  We have happily moved into their small group training and feel strong and energetic.  THANK YOU !MPACT!
January 2015 — MELISSA NOBILE

— 

: This gal rocks!  She is so dedicated to her training at !MPACT, and we couldn't be more proud!  We received this amazing testimonial that we will be adding to the testimonials on our website. . . This wonderful letter came from her Mom, Laura:
Melissa Nobile started playing softball when she was young, but fell in love with Field Hockey the first day she started training with Total Dutch Field Hockey back in 6th grade.  The game requires speed, endurance & agility which excites her. She has continued to play at HMS, HHS and Club Field Hockey for the past 5 years. She has had great success playing locally and nationally.   She now plays for the Princeton Field Hockey Club (PFHC).  This team has also trained internationally in Vancouver and the Netherlands. In November her U16 PFHC team traveled to California for the National Field Hockey Festival. They won their pool taking Gold.  Melissa wants to play field hockey in college and is actively recruiting.  The one thing her coaches have said is to make sure she keeps up her conditioning.  She may be small in size, but she is fast and powerful.  !MPACT Training has been a great place to focus her training, introducing her to weights and make new friends.  Weight training is something she never thought of, but now it is a key part of her routine.  After a stressful day of being a teenager, she may be tired but once she hits the !MPACT she is energized and focused to face all her challenges.  !MPACT will help her achieve her goals and has a great influence on her daily life.
TESTIMONIAL #1 (May 2013)

: Dear Hillarie & Mike:  Thank you so much for all you did to make our son's 8th birthday celebration at !MPACT so much fun! You both did such a great job with the kids.  By getting to know and addressing each child by name, you made them feel welcome and special from the moment they came in the door.  We also appreciate the effort you made to coach and cheer on each and every one of them as they did each new exercise.  It's that personal touch that makes !MPACT so unique.  We loved the fact that you kept them busy for just about every minute of the hour and a half, except, of course, when it was time to have an ice cream break and sing happy birthday.  It was great to see each and every kid actively engaged in such a vast variety of challenging physical fitness activities.  We have no doubt that every one of our party guests slept well that night!  Most importantly, we are sure that everyone had fun!  Thank you, Deanna & Anthony Cannatelli
TESTIMONIAL #2: 

(April 2013) After I read the testimonial in the March newsletter from Inger (below), it motivated me to share a few thoughts of my own. First and foremost, Inger ROCKS! She's an inspiration to me just like all the other great people I call friends at !MPACT.  Now on to you guys and IMPACT. You are going to cost me allot of money this weekend and I couldn't be happier. You see next Wednesday I have a business meeting where a suit is the required dress code but……..none of my darn suits fit me anymore. I mean they are literally falling off of me. A good thing I thought to try them on before next Wednesday morning. So I combined this experience with Inger's testimonial and bingo the words are now flying from my fingertips.  The environment you have created and continue to nurture speaks volumes about what you are in this for. Everyone needs to make a buck, but I know in my heart that making money isn't why you do what you do. This is why you are, and why you will continue to be a success in your chosen field. I've known this since the laugh fests in your basement (Hillarie's former personal training studio). "Sal's greatest hits" is how I like to remember them. The funny thing is I don't even think about the working out and sweating when I think about you guys and IMPACT. To be honest, it's really not why I keep coming back. I keep coming because of the great community of like-minded people that you have created. Just keep doing what you do and people who get it will seek you out.  Thanks & Continued Success.  Sal Cuccio
TESTIMONIAL #3

–

(March 2013)

:  Good Morning Mike & Hill!  Saw your February newsletter and I'm so excited about all the new tools being added to my already AWESOME weight-loss & fitness program! I love having the "one stop shopping" all under one roof. I'm definitely excited to see another bootcamp class added on Wednesdays, and The Chew-the-Fat program also looks cool. I was interested in getting some additional information on the February Beachbody Challenge too! You guys rock and I am so very excited to be a part of your wonderful family. You guys (as well as Mike and Dan) and even my fellow bootcampers have all been really supportive of not only myself, but all the other members at !MPACT. You are all very motivational and I always leave there feeling good about myself, even if I struggled with some of the exercises during bootcamp. The trainers always give me the extra support I need, and when they seek me out after the training session to tell me they are proud of me and to let me know I did a great job, well that just gives me the encouragement to keep coming back and improve upon my abilities each time. It's a nice change from your stereotypical gym where once you join, you become just another face. I still have a very long road ahead of me but I wanted to let you know that you all have made my first month at !MPACT a wonderful experience in my journey to a healthy new me!  Thanks again for being such a great group of people. You make being there fun and even though I am exhausted and a ball of jelly when I leave there, I always look forward to coming back! I can honestly say I have never had that experience before. So THANKS!!  Have a great day and I will see you on the turf!!  Inger (Somerset, NJ)
TESTIMONIAL #4:

  We signed up with you in February 2012 to work with our boys in preparation for the football season that started up in August.  We wanted to let you know that all seven of the boys from our training group were selected to play on the Jr. Raiders JV Football Team – the elite travel program for 5th and 6th graders.  Jaden Bailey, Jimmy Burke, Greg Koll, Joe Lubas, Robert Pasternack, Norm Washington, and Tommy Zdroik all made the travel team, and Jacob Lubas (who also trained with our boys at !MPACT) made the varsity team.  The hard work they, and you, put in over the winter, spring and summer building speed, agility, strength, and most importantly confidence, has paid off. They're still bigger and slower than most (they're linemen after all), but the improvement from last year was dramatic. And as significant, the deterioration that typically happens during the winter and spring months was replaced by increased agility, stamina, and strength.  Thanks for all you've done. Consider this a rousing endorsement of your program and a recommendation to all who want to make an impact! We'll be back! –Norm Washington—
Response – from !MPACT:
Thanks so much, Norm . . . We were so proud when those boys (under the leadership of Coach Jamie Moore), went all the way to the Superbowl championship game AND WON!!  We saw how aggressive they became on the line and what a difference they made to the outcome!  Great season – we enjoyed watching them play!  See you at IMPACT.  –Hillarie–
TESTIMONIAL #5

:  My son loves playing lacrosse and for a few years now he has focused on getting to know the game and working on his stick skills. When he moved to high school it became evident that skills and knowledge need to be complimented with strength and confidence if he wants to realize his goals. We agreed that he needed to improve full body strength focusing on his core, improve agility and explosiveness while adding lean muscle mass. I knew that conventional retail bodybuilding/strength programs were not the answer.  This was at the time of the Summer Olympics and I read about the benefits of the functional approach to strength training a number of the US athletes subscribed to.  I was referred to !MPACT by a friend and quickly realized that the functional strength training they offer were what we were looking for.  My son and I met Hillarie and Dan and we were both impressed by their enthusiasm and the interest they showed in his personal goals. We understood from our first conversation that training and exercise need to be supplemented with a balanced nutritional plan. Hillarie benchmarked my son's current eating habits and my wife and my son met with Hillarie to review this and develop a nutritional plan. While this plan was focused on my son it also had a profound effect on how we eat in our household.  The plan did not only cover his general approach to food but also helped tremendously with game-day and tournament food choices. Since starting the plan my son has experienced a marked improvement in his levels of energy, from the first to the last game on multi day, multi game tournaments.  My son has benefited significantly from !MPACT's group based bootcamps which can be likened to having a personal trainer every time you go to gym. He mostly attends evening sessions and is continuously challenged by Dan. Not once has a session been boring or easy.  He has gained 22lb of lean muscle mass and it is amazing to see the improvement in his balance and power. This has translated into better performance on the lacrosse field. Due to this his confidence has improved which has helped him on and off the sports field.  All this after only four months at !MPACT!!  Regards, Louis
TESTIMONIAL #6:  We had a new boy who came for our KIDS' Total Development Training at 5:30 p.m. on March 15th, 2012.  This was his Mom's note to us the next day:  "I was out having dinner with a friend and my phone rang at 6:31 pm – Tyler was so excited to tell me how much he LOVED the training session. His words were — I can't wait to do this again next week and then forever." "Then when I came home he sat me down and showed me mostly everything that he did… He was so proud of himself." "He also mentioned how great it was that someone was telling him how the different exercises would help him on the football field." "To sum it up Michael, he absolutely LOVES this training and I couldn't thank you and Hillarie enough with how great you are with him – THANK YOU!!! From:  Joy (Hillsborough, NJ)
TESTIMONIAL #7:  From: Rocky Falcetano — Hello… I just want to share my experience – I am currently being trained by Hillarie Scannelli (Fitness by Hillarie/!MPACT Training).  I had a lot of weight to lose – I lost nearly 100 pounds on my own and was not able to lose much more weight.  During my annual doctor's visit, he told me about the talents of personal trainer, Hillarie Scannelli.  I was skeptical at first at the thought of a stranger telling me how to get in shape and lose more weight, so I put it off for a short time.  I decided one day to go to Hillarie's website and after only a few minutes on it, I knew that Hillarie would be an awesome trainer and nutritional counselor.  I was right!  After my initial consult session with Hillarie, I was excited and wanted to work out with her immediately.  She is energetic, extremely knowledgeable and very encouraging.  I was revitalized and had the same focus again as the first day I started my diet!  In fact, I lost over 7 pounds the first week of eating CORRECTLY under Hillarie's instruction.  After only 6 sessions with Hillarie, I lost a total of 27 additional pounds – and as I continued with consistent training and dieting, I lost a total of 77 pounds working with Hillarie.  As I told Hillarie, I feel the best I have felt in over 20 years and I look forward to each session I have with her.  As a matter of fact, I am disappointed when the hour-long session is over; no kidding! I STRONGLY RECOMMEND Hillarie Scannelli and !MPACT Training if you are serious about your weight loss and getting healthier.  It took me 50 years to get serious about my health and weight, and I am very glad to have had the sense to choose Hillarie as my trainer.  My 13 year old son also met with Hillarie, and I know that after spending some time with her, he was excited and ready to shed a few pounds and get in shape. Lastly, I am working hard each day to finally look and feel the way I want; Hillarie is always there for me to keep me on track, and for that, I am very grateful.  As I tell Hillarie — for my entire life, my body called the shots… now I do, thanks to my strength of will and Hillarie's talents, guidance and encouragement.
BEFORE PHOTO:  Weighing 390 lbs.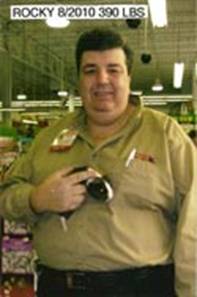 AFTER PHOTO – One Year Later – 213 lbs.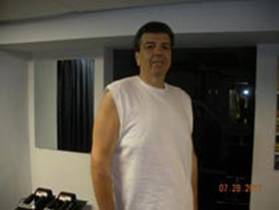 TESTIMONIAL #8:  From: Barb & Walt (Hillsborough, NJ) — For the past several years, our children have attended Hillarie's Fit & Fun Camp. They absolutely LOVE the Fit & Fun Camp for the relay games, fun exercise activities and nutrition info they learn.  As parents, we are so pleased with the balance of a safe program for our children, which strengthen their bodies and their minds while they have FUN! It is our experience with Fit & Fun Camp that motivated us to schedule our son, Kyle (age 12), with Hillarie's Speed and Agility Camp.  He is very active in football and baseball, and we have found Hillarie's training to be relevant and successful in helping him to maintain the skills he needs to perform at his peak athletic ability.  We have seen improvements in his strength, speed, running stride, and overall agility.  We believe Hillarie's training is unique in that it prepares young athletes both physically and mentally.  We fully trust Hillarie's professional and personal advice and expertise, and we will continue to support and advocate for the exceptional fitness programs she offers for our children.
TESTIMONIAL #9:  From: Jane (Brick, NJ) — After losing 80 lbs and keeping it off for 20 years, I was at a stand-still and could not lose another pound. I was feeling very frustrated because I continued to work very hard with my exercise program and was keeping a journal of all my meals.  I thought of contacting Hillarie, since she and I worked together years ago and I remembered how educated she was with nutrition and exercise.  Hillarie knew my history of weight loss and admitted she was going to have to really analyze what I was eating and the types of exercise I was doing to figure out why I wasn't seeing results.  Well, I'm proud to say Hillarie tweaked my diet by asking me to add some additional protein and created a different cardio and weight training plan. After 6 dedicated weeks, I dropped 8 lbs and 7% body fat. I continue to reach out to Hillarie for motivation and inspiration to help keep me on track.  I'm very proud to say at age 53, I feel better than I ever have in my life!
TESTIMONIAL #10:  From: Fran (Bridgewater) – Hillarie's training programs not only offers a challenging workout, but she also offers support and guidance to her personal training clients.  But the service she provides is more than just a workout. Her passion for fitness and living a healthy lifestyle has been an inspiration to both me and my teenage daughter. Hillarie's knowledge base is limitless, and she's always eager to share that knowledge in a caring and enthusiastic way. She goes above and beyond what you would expect from a personal trainer.
TESTIMONIAL #11:  From: Melony Baclini (Hillsborough, NJ) — I have been training with Hillarie since September of 2007, and each and every time I have been for a session (usually twice per week), it has been a great experience!  Each time I arrive, I'm greeted with energy, professionalism, enthusiasm, a great interest in my well-being, and Hillarie's desire to give you the best workout ever.  By the time I leave I feel like a million dollars!  Exercise was never a priority or second nature to me, but now I really look forward to my sessions. Hillarie designed a program that works for my family, my lifestyle and me.  I have lost several pounds even more in inches and toned up some of those problem areas.  I feel great about myself and my husband is so proud of the "new me"! I still have work to do, but with Hillarie's constant encouragement, amazing workouts (even great recipes), there is no doubt that I will continue to be a healthier person in body and soul!
TESTIMONIAL #12:  From: Suzanne (Hillsborough, NJ) – This is a full-service personal training business that is amazing.  Hillarie stands by you from the beginning to the end with all the encouragement you could ever need.  You could fall off track a million times, and she never looks at the past but always looks to the future. She helps you stay on track and is there every step of the way. Hillarie has a deep dedication and passion to her profession, and she has this amazing drive to help you reach your goals.  I've never met a more dedicated and encouraging person to help others reach their goals to be healthy; she truly cares about each and every one of her clients and helps them all succeed.
TESTIMONIAL #13: From: Lisa (Montgomery, NJ) — At my home in Montgomery, I hosted a sports nutrition lecture given by Hillarie Scannelli. I invited parents and young athletes from various sports teams in an effort to help other young athletes gain the sports nutrition knowledge that we received after private nutritional counseling with Hillarie. Our son, Connor, started working with Hillarie, who is certified in Sports Nutrition. Connor needed to gain weight and increase lean muscle mass. We cannot say enough good things about her work. Connor will tell you that for all the money we have spent on additional training for a multitude of sports, working with Hillarie is the best-spent money with the greatest benefits on and off the field. Hillarie devises nutrition plans for NFL combine athletes in addition to the work she does with athletes in the area. Hillarie can cover topics like: Why sports drinks can decrease performance on the field; What to eat and when; Pre and post-workout eating to get the most out of the weight room; How to select a protein drink; Good fats, carbs and proteins for long life eating. Hillarie is all about eating everyday foods with protein supplements as needed. No matter what sport your child/teen plays, I highly recommend listening to her lecture.
TESTIMONIAL #14:  From:  Dave Barker, Hillsborough, NJ:    For years, I was a decent athlete and stayed in decent shape.  I worked out, but not religiously.  Sports were always part of my life, and that probably was the most important thing that kept me in shape.  After attending a fundraising bootcamp at !MPACT Training for Super Storm Sandy Relief, I joined !MPACT in December 2012.  Since then, I ran my first mud run, then a longer mud run, followed with an even longer one, and this April I ran the New Jersey Marathon.
In addition to bootcamps, I did have to run my butt off for months to prepare for the marathon.   However, there's no way I would have been in position to even start training for a marathon without the level of fitness that Total Development Bootcamps at !MPACT helped me achieve.  Sixteen months ago I wouldn't have thought to ask myself if I could run a marathon.  Five months ago that changed to asking myself how fast I think I could finish one, and today the job's done.  The question's changed once again to either "What's next?" or "How much faster can I go?"
I could go on and rattle off a long list of the benefits TD Bootcamp can provide.  It's no short list, and it goes far beyond becoming a better athlete.  I'll just list one for now:  it's a fantastic base of fitness to use as springboard for tackling any challenge lying ahead of you, physical or otherwise.  And if you don't have a challenge picked out…the positive & always supportive !MPACT community just might be able to help you find a constructive one to pursue!