Local Training Center Making an 'Impact'
Newer to the borough, wife and husband duo transformed home-base business
May 1, 2012 – By Gerard Longo of Hillsborough Patch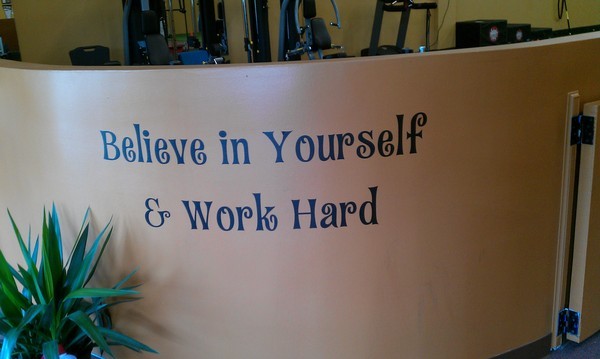 !MPACT Training may be a fairly new fitness location in Hillsborough, but owner and head trainer Hillarie Z. Scannelli is no newcomer to the industry.
Scannelli, a former professional USFL cheerleader and national fitness competitor who has been featured on ESPN, has over 25 certifications and a wealth of experience working with professional and elite athletes and opened !MPACT Training on Feb. 1.
Scannelli started her own, home-based fitness business, Fitness by Hillarie, and ran it out of her basement in Union from 2000 until recently.
"She said we need to open up a place and that our basement was really tiny," Scannelli's husband, Michael, said. "Lo and behold, she opened up here. We came right over here and found this space."
Hillarie decided it was necessary to expand after the demand for her personal training services began to exceed not only her available space, but the time she had to train clients.
"You hate to ever say to someone, 'I'm so sorry. I'm booked solid and just don't have any time,' " Hillarie said, "especially somebody who has a health condition and really needs to lose some weight."
The Scannellis hope !MPACT Training can help their clients do just that. The center offers nutritional planning and counseling under the philosophy that food should be treated and consumed as fuel. The assistance doesn't stop at weight loss, though; the goal of !MPACT is to help clients accomplish any other fitness goals they may have. !MPACT clients can reach those goals by training in a variety of ways, including one-on-one, semi-private, partner and group training.
Another area of training where !MPACT specializes is "Boot Camp" training, which typically sees group sizes between eight and 20 people. Both Hillarie and Michael are now certified in boot camp training in an effort to train more clients.
Whatever methods they use, Scannelli hopes that each !MPACT client can begin to prioritize fitness and take the best care of their bodies possible.
"I just want to bring awareness (to fitness). We're all busy; we've all got things going in our lives," Scannelli said. "Fitness, nutrition and making time for yourself—if we prioritized, we could squeeze it in. It's just a matter of getting people to think outside of the box."
"In reality, you've got one body. You better treat it world-class, or you're going to wind up at the doctor," she continued. "I'm really trying hard to reach a big audience to teach them how to take better care of themselves."
This "out-of-the-box" mentality is why !MPACT prides itself on not being an everyday, bodybuilder's gym. While weights and machines can be found at !MPACT training, a majority of the training the center provides is of the functional variety.
Michael stated that this is especially key for athletes, who seem to be gravitating toward a more functional style of training, as opposed to traditional weight training, over time.
"No matter what sport you play, you have to be able to move east and west as much as you're going north or south," he said. "We don't consider ourselves a gym; we consider ourselves a fitness facility. It's all about the training; you can't just come in off the street and start pumping iron."
Hillarie seemed to agree wholeheartedly, expressing that athletic, functional training can also fulfill a key role in motivating people to succeed.
"Everybody should train like an athlete; not because somebody that's 55 is going to be going into some football game or a wrestling match, but because, If you're training like an athlete, there's a reason why you're doing it," she said. "They're driven; they just push themselves harder."
No matter how they can motivate people, the Scannellis are happy to bring their energy and enthusiasm for fitness knowing that they have a chance to make a difference every day.
"One of our clients said to us, 'It's not about making a living. It's about making a difference in people's lives and in the community, as well,'" Michael said.
"I go home every day and feel like I helped a couple people," Hillarie added, "like I made a difference."
(See original article here!)*
Making an impact with fitness
April 25, 2012 – myCentralJersey.com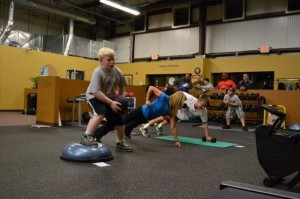 Hillarie and Michael Scannelli want to make an impact.
IMPACT Training, a new personal training facility in Hillsborough, offers an alternative to the gym and strives to be much more than just another place to work out.
"We are not just a gym," Hillarie Scannelli said. "We want to inspire and educate people and change lives."
Scannelli said she had a successful home-based business, Fitness by Hillarie, and decided to expand and reach more people.
They specialize in personal training, which can be one-on-one, semiprivate or through Total Development Bootcamps. All sessions are led by personal trainers. They also specialize in personal training for kids and teens through the Kids and Teen Total Development Training program. They combine personal training with nutritional guidance, lectures and sample diets.
"We want our clients to learn the science behind why proper nutrition is important," Hillarie said. "People learn how to get their bodies stronger, feeling more fit and healthier. You only get one body, so we need to treat it world class."
Scannelli became certified in personal training in 1988, but her passion for fitness and nutrition started much earlier. She was a professional cheerleader in 1986 and was a national fitness competitor from 1995 through 1998. Also, in April 2009, she won the National Physique Committee's Suburban Bodybuilding & Figure Competition.
She worked as a trainer for TEST Sports Club in Martinsville, and earned nutrition and sports nutrition certifications. At TEST, she then headed the nutrition program and worked with elite college football players, among others. She said she has worked with more than 30 athletes who are playing in the National Football League and a few who are in Major League Baseball.
IMPACT Training is at 126 Stryker Lane, Building 24, Unit 3, Hillsborough. It is a 4,850-square-foot facility. Her husband helps manage the day-to-day operations and is finishing his personal training certification. He also works with many of the kids and has been a Jr. Raiders football coach in town.
"Kids really respond to him, and we both really care about them, and I think they feel that," Hillarie said. "We work with a lot of athletes, and kids, some needing to lose weight, some needing to gain it. We want to make sure they do it the right way. They use a combination of methods, including dumbbells and weighted ropes. It's very customized for maximum results."
Client Judy Maddalone said, "I have been a client of Hillarie Scannelli's since 2004. I came to Hillarie 50 pounds overweight and at the end of my rope. I had tried everything, including what some people would call starvation, and could not lose any weight. I had a thyroid condition and felt that weight loss was impossible."
She said Scannelli worked very closely with her to design a menu that included a balance of carbohydrates, fats and proteins.
"She convinced me that I needed to eat five times during the day to keep fueling the fire, my metabolism," Maddalone said. "It seemed illogical that I could eat more than I was currently eating and lose weight. To make a long story short, I lost the 50 pounds and more in less than a year."
She said she reached her goal weight seven years ago and has not gained the weight back.
"I continue to attend private one-on-one training sessions, as well as the Total Development Boot Camps because I have grown to love them."
Hillarie added, "I think people join regular gyms with good intentions, but they get bored or discouraged and don't get the most out of them. This is really a different experience. We educate people on how to reach their goals.
"This is not just a job for me. It is my passion, my purpose. I love doing what I do and helping people."
For information, visit www.ImpactTraining-Jersey.com.
(See original article here!)*